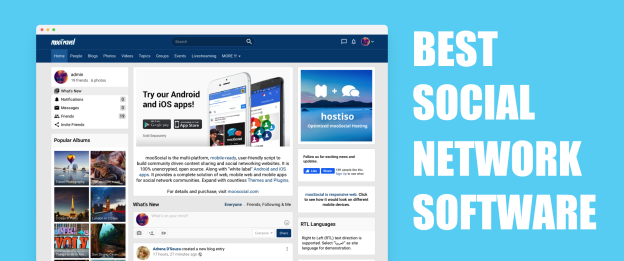 Build your own social network using open-source social network platforms. Control your data and collaborate with your team members & customers effectively.
mooSocial
mooSocial is a "white labeled" Mobile-Friendly Social Networking software. Start your social network right out of the box with mooSocial and customize it anyway you'd like. It is aesthetically built with end user experience in mind. mooSocial is highly configurable and expandable along with the ability to add additional themes and plugins. It is easy to use even for site owners without programing skills.
Features:
Activity streams
Emoji
Tag/mention people
Report abuse, block user
Invite friends
Follow feature
Inbox (Messages)
Notifications & Messages
Social log in (Facebook and Google)
User Profile
Newsfeed (share post, post interaction)
Layout editor (drag and drop)
Static/html page manager
Plugins manager
Country manager
Language manager and translation tool
Themes manager
User roles
User management
Spam Challenges
Profile types and custom fields
Cron jobs management
Mail system
Cache settings
Storage and CDN
Menu manegement
Coupon manager
Payment Gateway Manager
Currency System
Subscription
Social integration
System settings
HumHub
HumHub is free social networking software built on the Yii Framework using PHP and JavaScript. This program, which is available for free, offers all the tools required to build your social networking website.
It has a user-friendly interface and is lightweight and powerful. With HumHub, you can build a social network, social intranet, or massive social enterprise application that is specifically tailored to your requirements.
Humhub already had the basic social network functions already built-in but there are no themes that can be used to quickly improve design, and the layout is rather simple. Additionally, there aren't many add-ons available to use.
Features:
Secured and private user profile
Activity Stream
Powerful dashboard
Social tools like a post, likes, comments, follow, etc…
Emoticons and much more
Jcow
Jcow is what you need to create a diverse social networking platform for business and personal use without being bankrupt. This free and open-source social network software is capable to handle high traffic and can do deep Google map integration.
Features:
Multiple Languages
Roles&Permission control
Google Map integrated
SMTP supportAnti-SPAM
Dynamic Cache
Inline Ads
News Feed
Wiki
Blogs
Images
Videos
Events
Musics
Fan Pages
User Groups
Forums
Questions
BuddyPress
Using BuddyPress to build a social networking website is incredibly simple. BuddyPress gives you the ability to use WordPress to build your social media website. There are many themes available for WordPress that can be used to fine tune social network website.
BuddyPress is based on PHP and customizable without coding knowledge. It is a fully CMS platform and free open-source. BuddyPress is developed for site builders and developers. This is easy to integrate, easy to use, and powerful.
BuddyPress is a robust software, comes with built-in support for Akismet and bbPress. It is also available in multiple languages. This plugin helps keep your users engaged and active
Features:
Can add custom profile fields
Extensible Groups and members
Activity streams
Private messaging
Site Tracking
Integrated and smart notification
Security and support
Creates a platform for discussion
Can build micro-community