How to make 'featured' for the great documents? Or sometimes, site members are able to upload the harmful documents on your site. How to be visible or invisible these documents before confirming them more exactly?,… This article will guide to you to do all of them.
Access to Admin Dashboard => Plugin Manager => Document => Document Manager tab.

Title: show the document title.
Member: show the document owner.
Created date: show the date time that document uploaded.
Category: show the category which document belongs to.
Approved: show the status of document.
And you can manage the documents with the following actions:

1. SEARCH DOCUMENT
Can filter documents by the conditions below: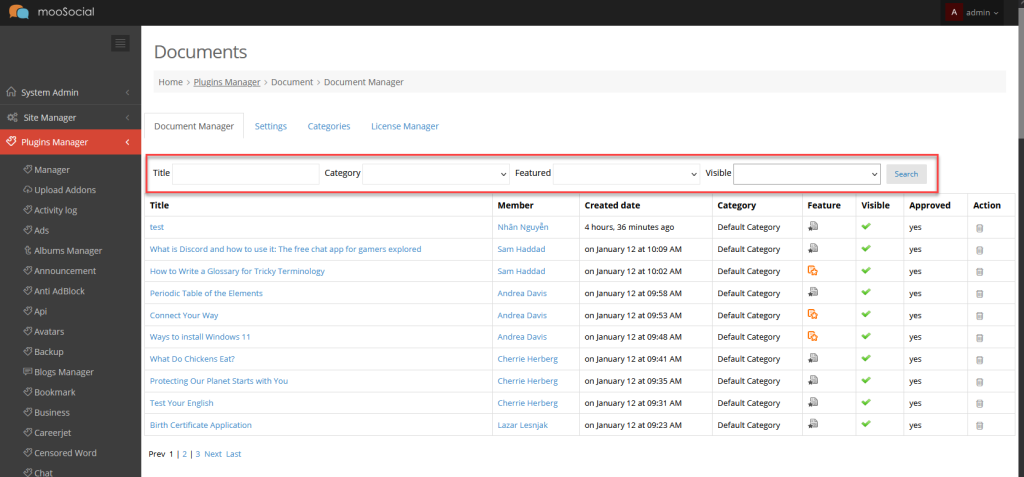 Title: enter keyword to search by the document title.
Category: filter the documents by category.
Feature: filter the documents by Featured status – 'yes' or 'no' to find the featured documents or the un-featured documents.
Visible:  filter the documents by Featured status – 'yes' or 'no' to find the visible documents or the invisible documents.
2. FEATURE DOCUMENT
Click the Feature icon to feature documents and vice versa.

(Front-end)
The featured documents will be displayed on the Feature document area and will have a label for them.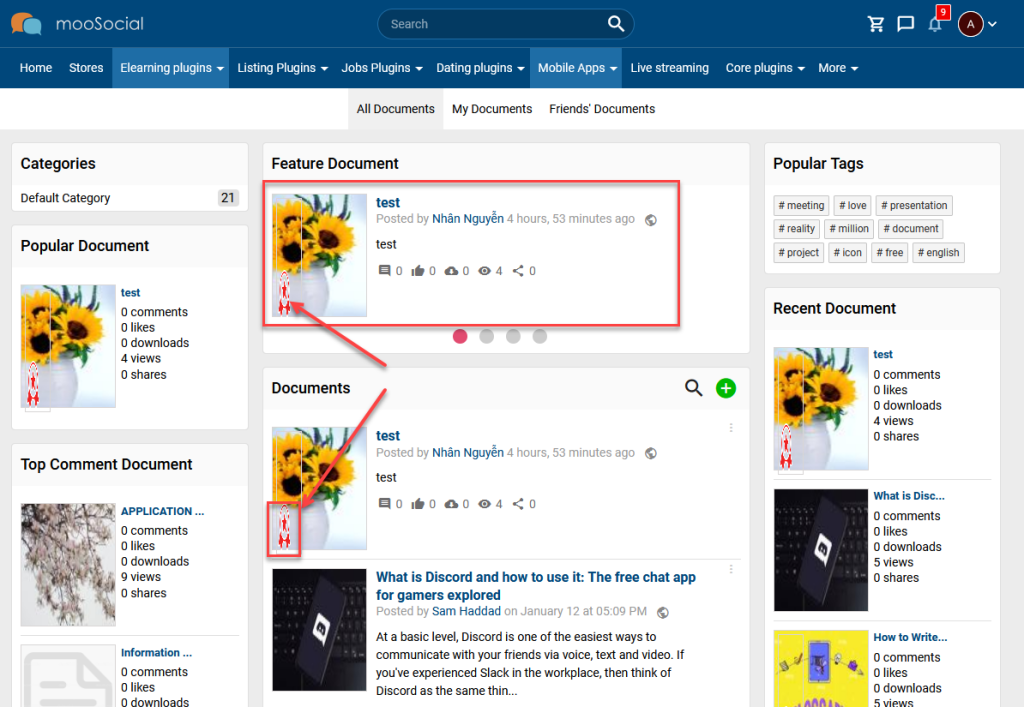 3. VISIBLE DOCUMENT
Click the Visible or Invisible icons to change status for documents.

(Front-end)
Site members can only view the documents with the visible status.
4. APPROVE DOCUMENT
Will show the Approve icon on the Action column with the pending approval documents. Admin can approve them by clicking the Approve icon.

5. DELETE DOCUMENT
Click the Delete icon >> Show the popup.

Click the OK to confirm deletion.