User can assign award to other users and these awards can show next to member full name. To do that, need make some step before that, this article will guide to you to do.
A. ADD AWARDS:
Access to Admin Dashboard => Plugin Manager => User Badges => Awards Manager  tab.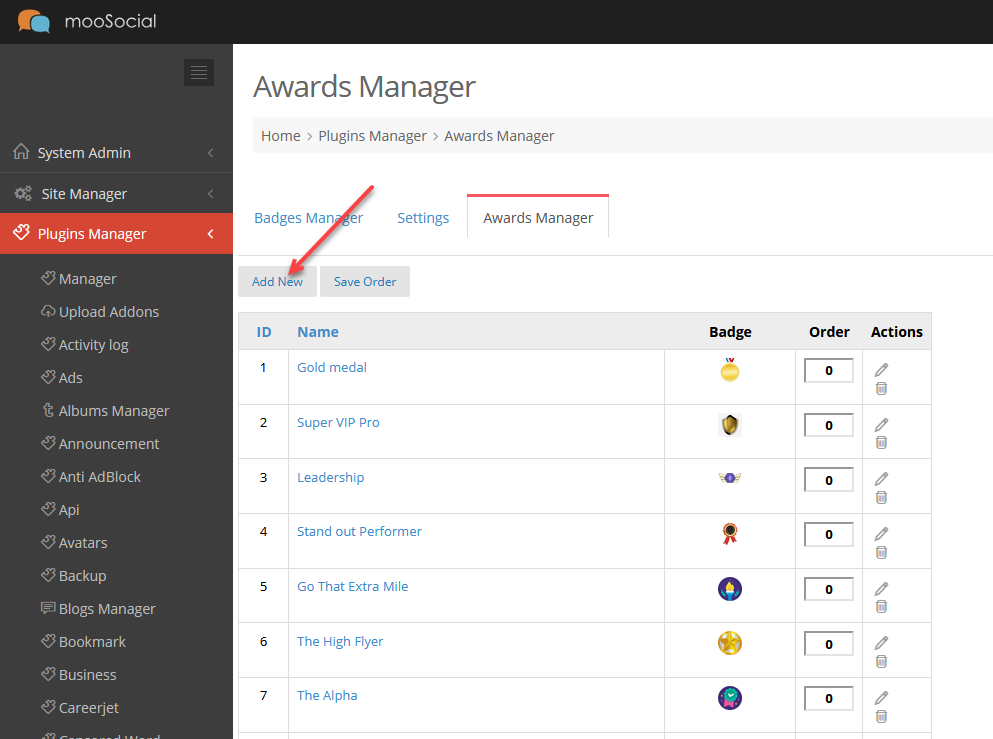 Step 1. Click the Add New button >> Show the popup.
Step 2. Enter information for award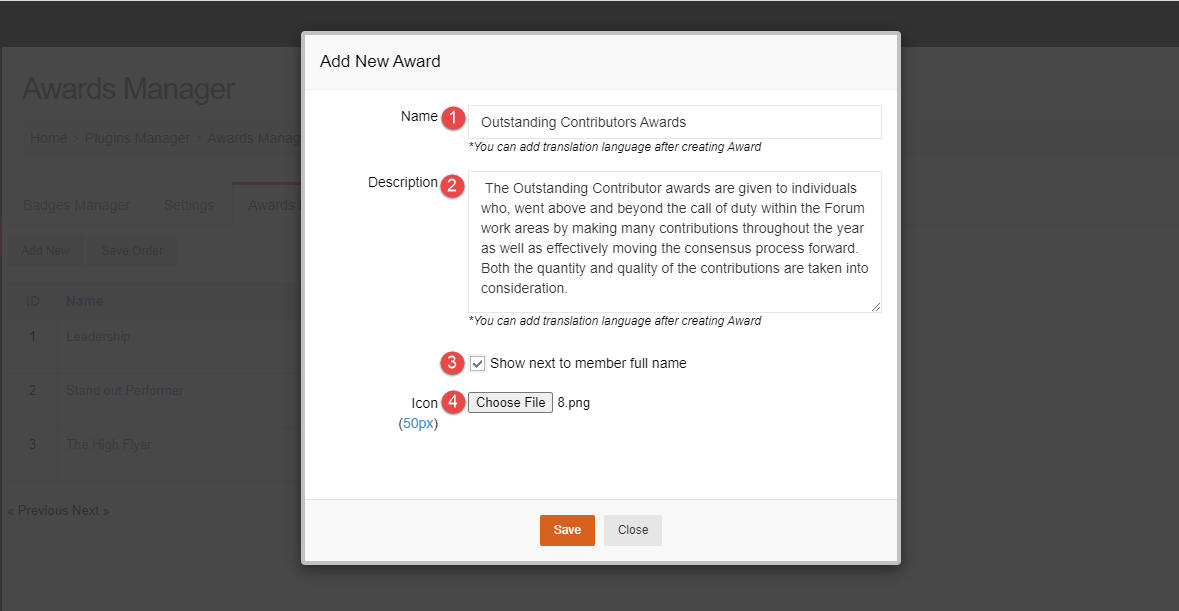 Name.
Description.
Show next to member full name: Tick on checkbox if you want to show award next to member full name.
Icon: Upload Award photo.
Step 3. Click the Save button.
By the way, admin can edit, delete, and order the awards: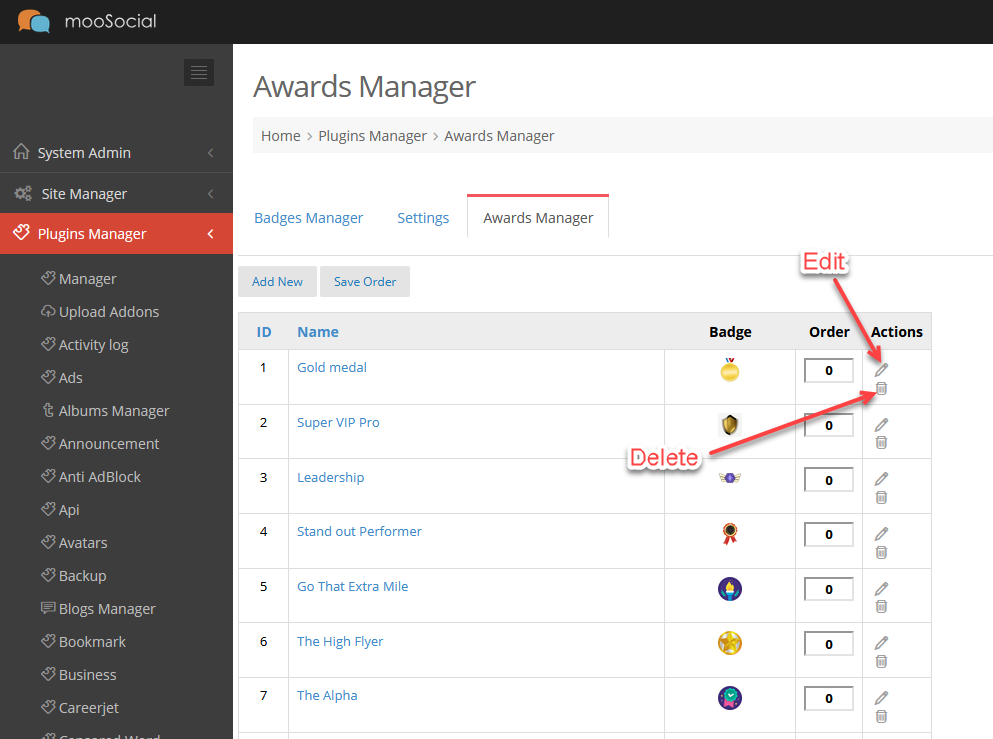 Save Order (With 0 is top order):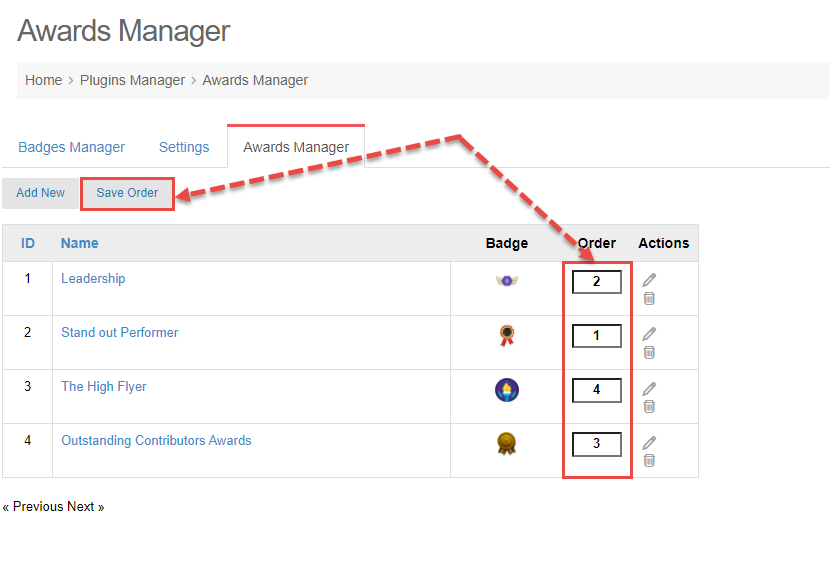 B. DRAG AND DROP 'AWARD BADGES' WIDGET TO PROFILE PAGE

Access to Admin Dashboard => Site Manager => Themes Manager => Layout Editor 
1. Select Profile Page.

2. Click the Filter By button and select the role_badge.
3. Drag and drop Award Badges widget to Profile Page >> Show the popup

4. Select options and click the Save Changes button on the popup.

5. Click the Save changes button to apply widget to Profile page.

C. SELECT USER ROLE WHICH ITS MEMBERS CAN ASSIGN AWARD BADGES FOR USERS
Access to Admin Dashboard => Site Manager => User Roles
On the article, we will assign this permission for Moderator user role.

Tick on the Assign award badge checkbox to allow members of this role can assign Award Badges for site members.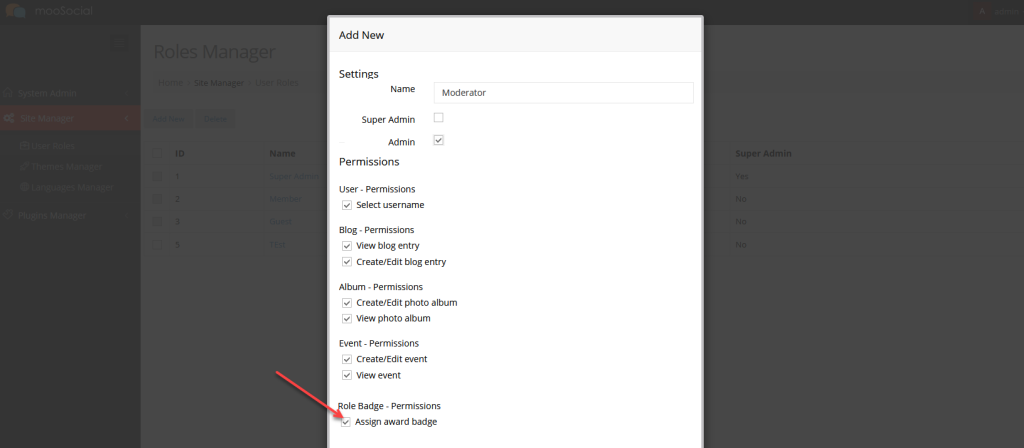 And then, click the Save button to apply setting.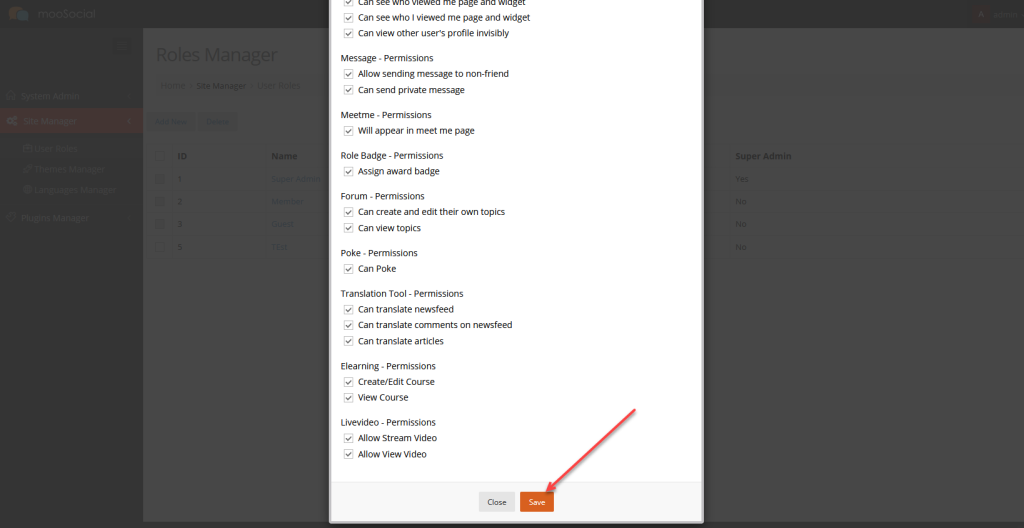 D. ASSIGN AWARD BADGES TO SITE MEMBERS
1. Access to site with an account which belongs to above user role (Moderator role).
2. Visit to the profile page of other user and select Assign Badge on widget.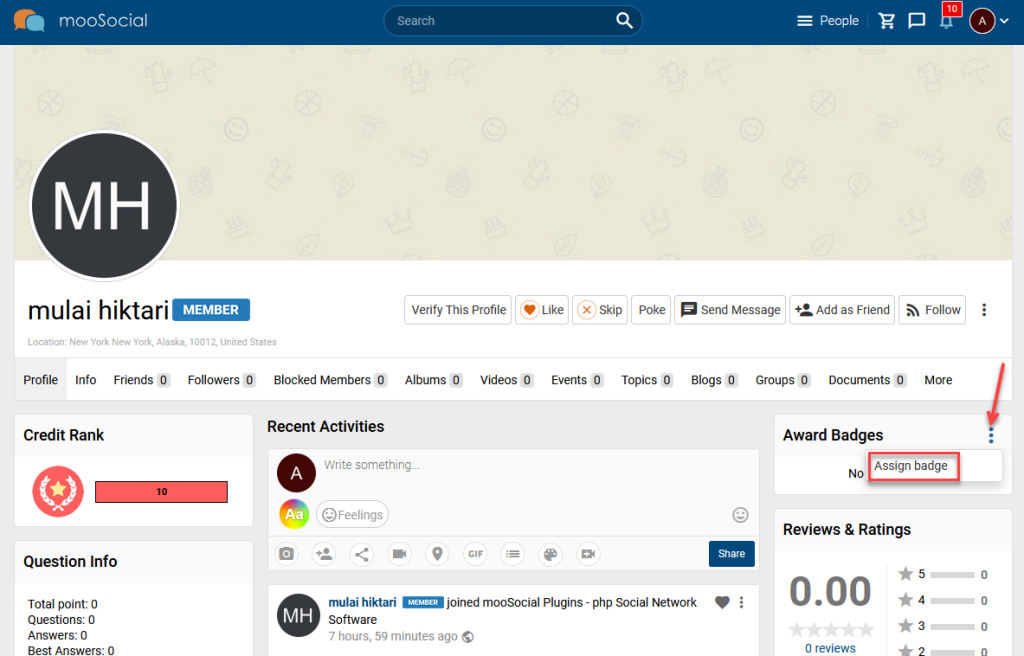 3. Tick on the awards you want to assign and click the Done button.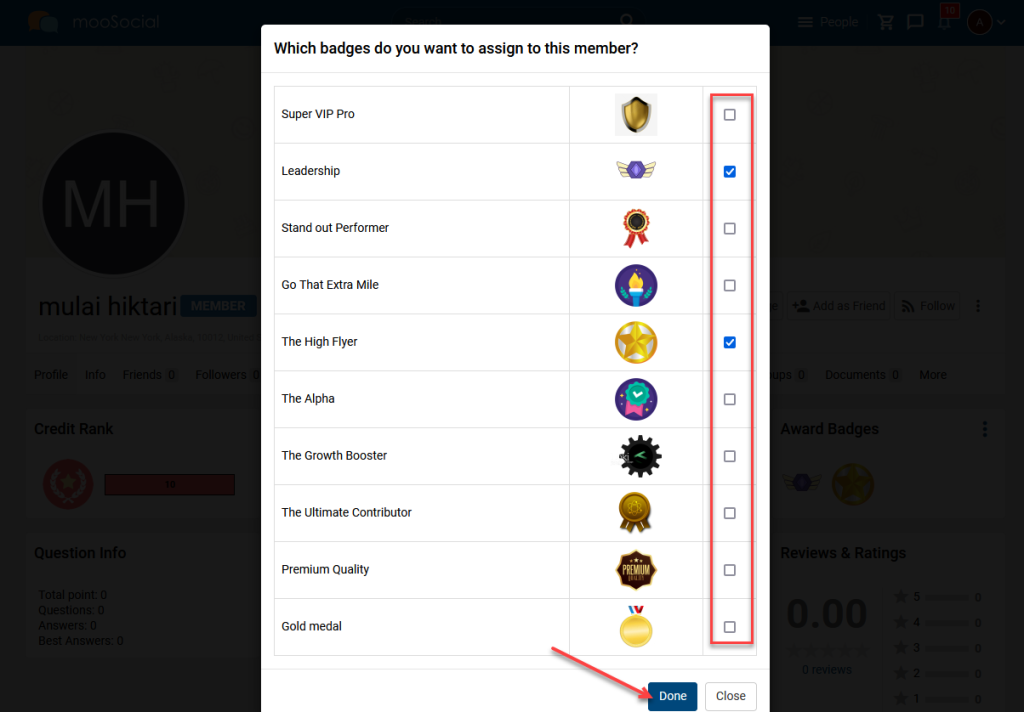 Will show the selected award badges on that user profile and next to user name after assigned.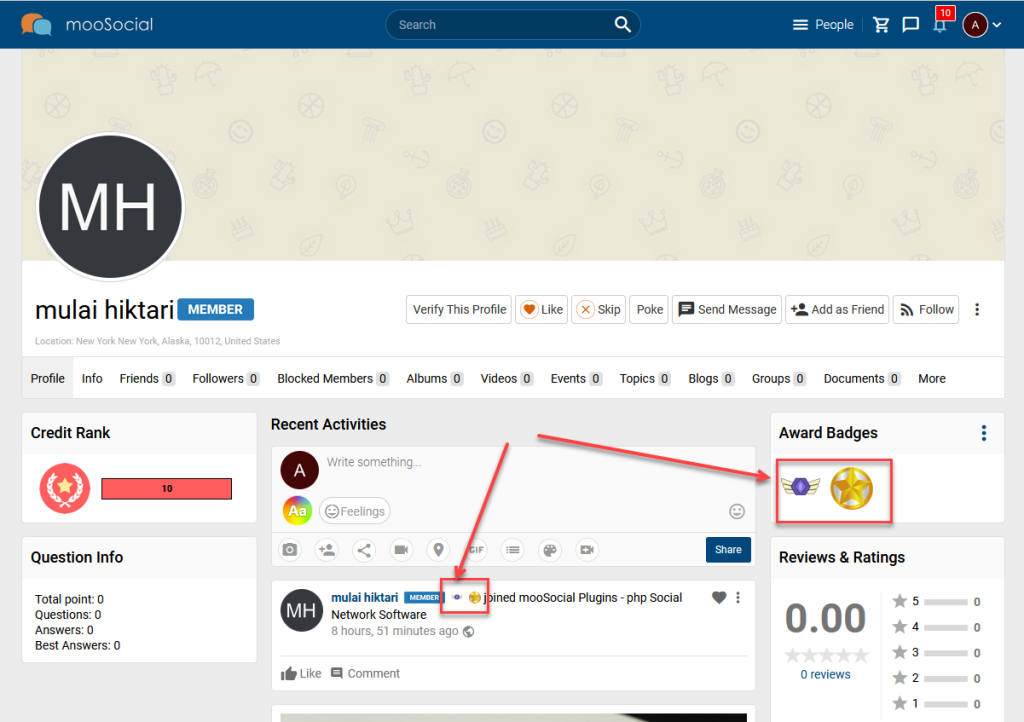 Enjoy the process.