This plugin allows you to create your own landing page, a static html page, custom Error Page, custom offline page… Please follow below steps
Login to admin dashboard
Go to plugin manager > magic page plugin
Create New Page

Enter page title, page alias, page meta keyword and description and select page permission
Select Blank Page Layout or pre-defined layout to customize. We will release new pre-define landing pages as paid plugin then you can purchase to add them into library.

Save Page
Click edit page layout to edit a page you created

There is pre-defined positions that you can add or remove a widget

Click add widget to add new widget to the the area you want. If you're developer, you can customize to add more widget into the list.

It's auto saved. You can close the browser and view your page
You can add your new page to site main navigation using page alias (yourdomain.com/page-alias)
You can also map to the system page: Landing page, Error Page and Site Offline Page by go to mapping and assign your page to these pages.  Ex: you created a new landing page and want system open that page when member visit your webiste. You need to go "mapping" section and select page you created at "Landing page" field to map. Save changes then go back to front end to check again.

Layouts tab in admin panel: This tab includes all of the installed template that you can use when creating a new page. We will release new template soon as a paid plugin for you to purchase later. As developer you can develop to add more templates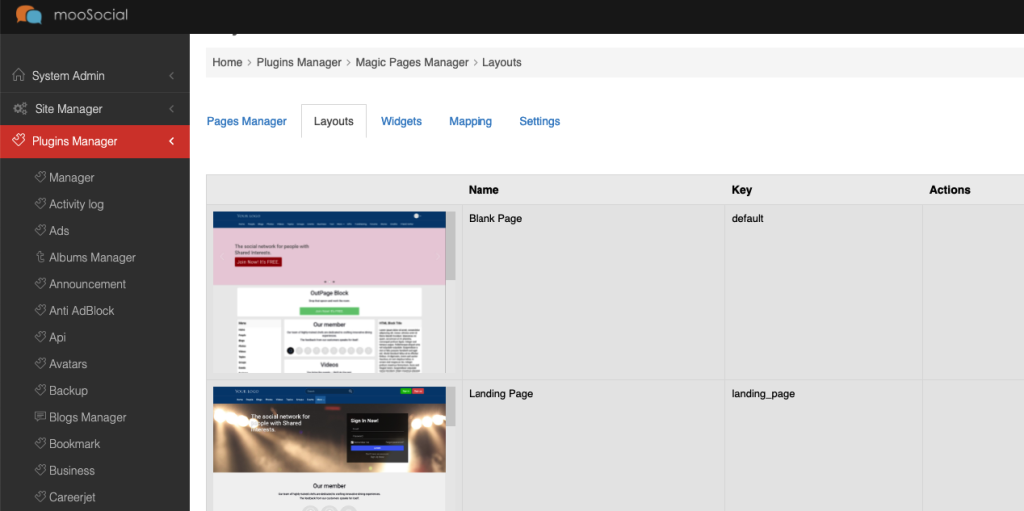 Widgets: This tab includes all of widgets that you can drag and drop into your custom page. As developer you can develop to add more widgets